Baby Teething Round Beads Wholesale & Custom
Melikey Wholesale Baby Teething Beads
Melikey is a professional silicone beads wholesale supplier. We have many years of production experience and mature technology, and can provide high quality products. 
Melikey is very strict about product quality control, ensuring that the silicone bead products offered meet international quality standards from raw material procurement to production and manufacturing processes, ensuring that customers buy high quality beads.
Melikey has a professional production team and fast response service. Generally, the production and delivery can be completed within 15 days after the customer places an order, ensuring the customer's delivery time.
Melikey offers a variety of silicone beads in different shapes, including but not limited to round beads, flat beads, hexagonal beads, letter beads, and more.
With the support of these services and advantages, Melikey has won the trust and cooperation of many customers, continuously improved its brand influence and competitiveness, and become one of the leading brands in the silicone bead industry.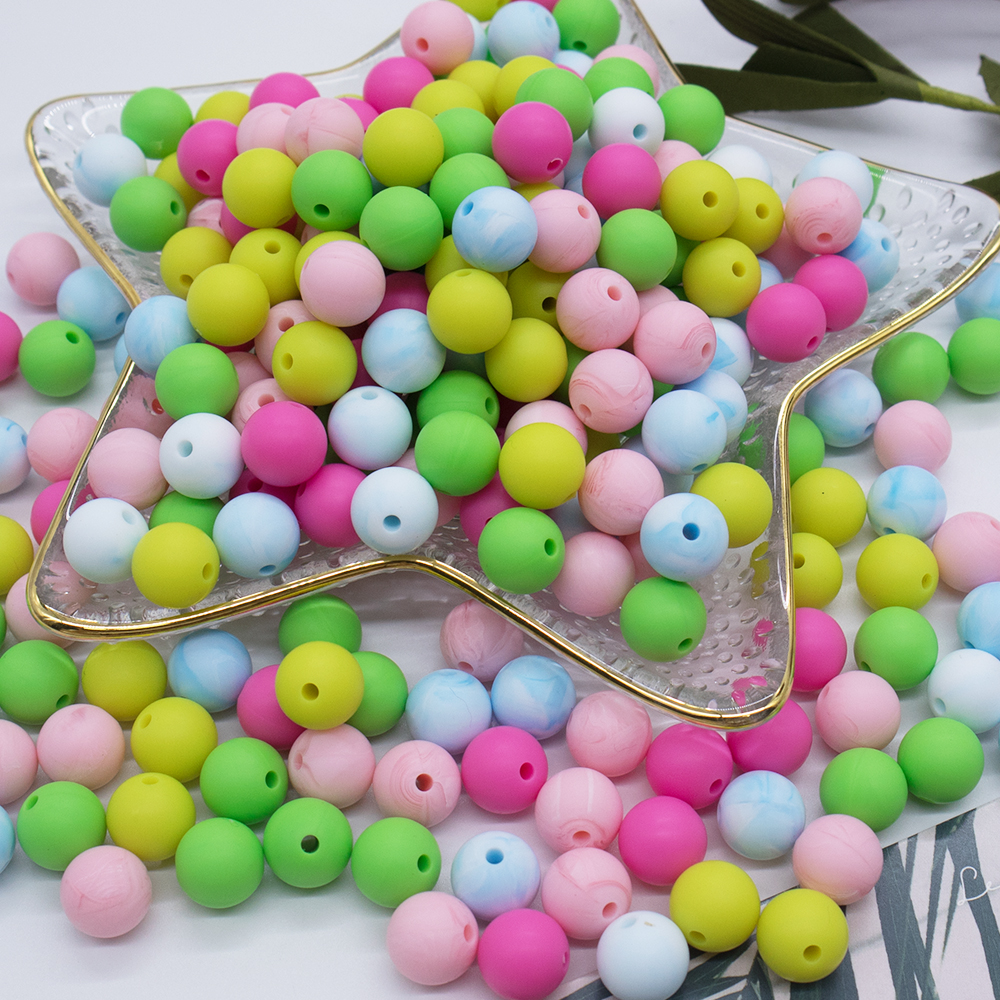 12mm round beads with holes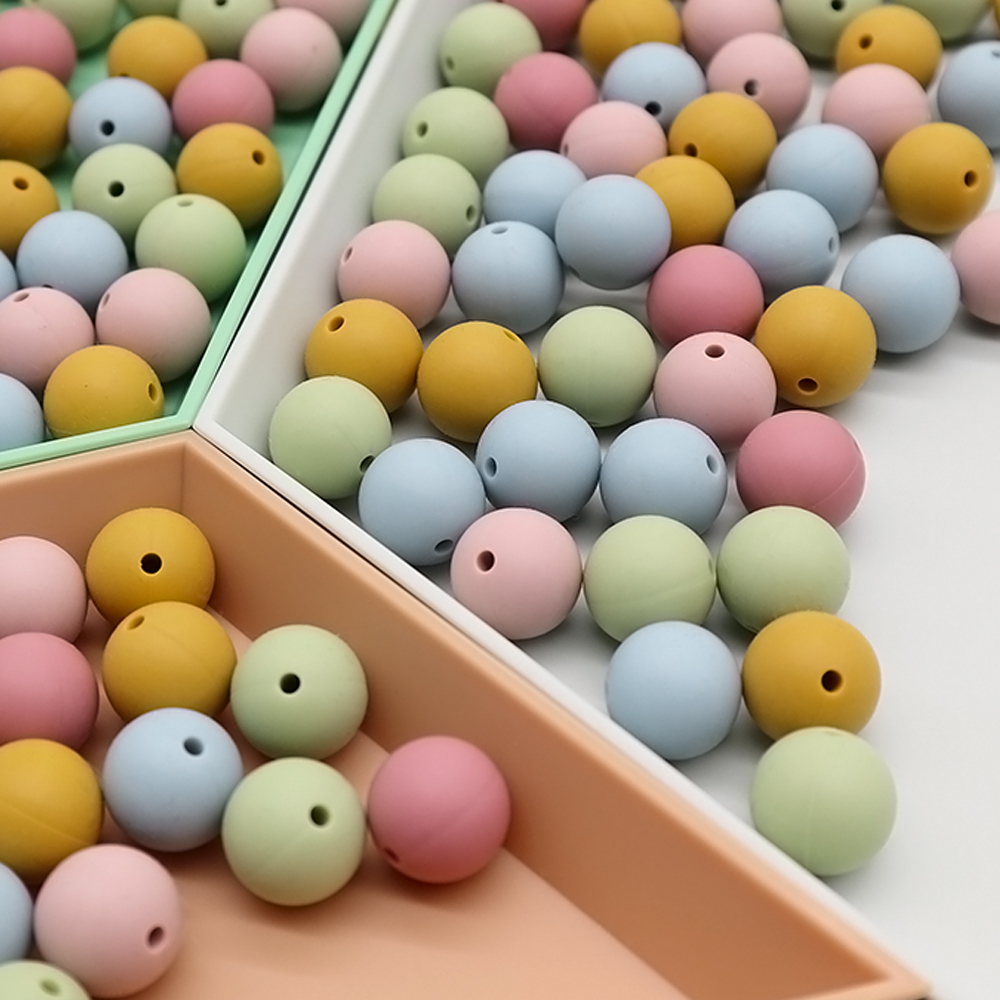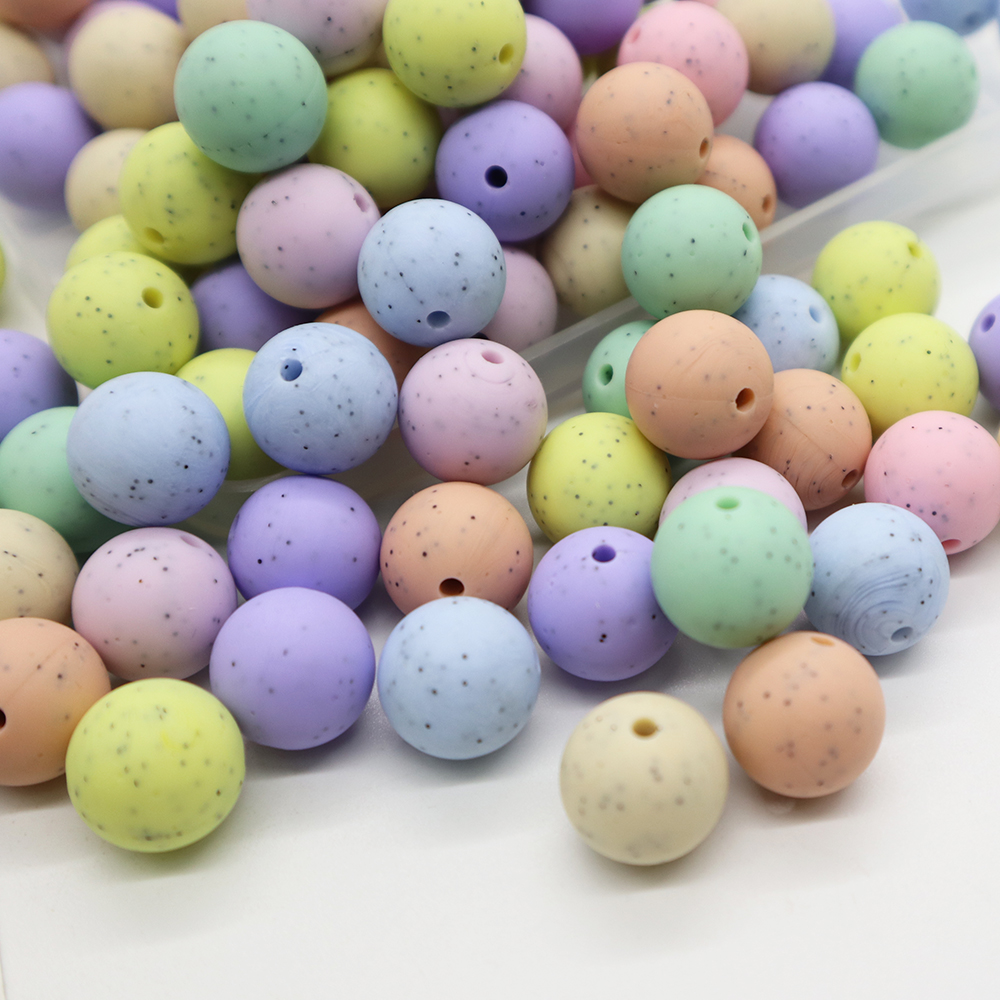 20mm baby teething Round beads wholesale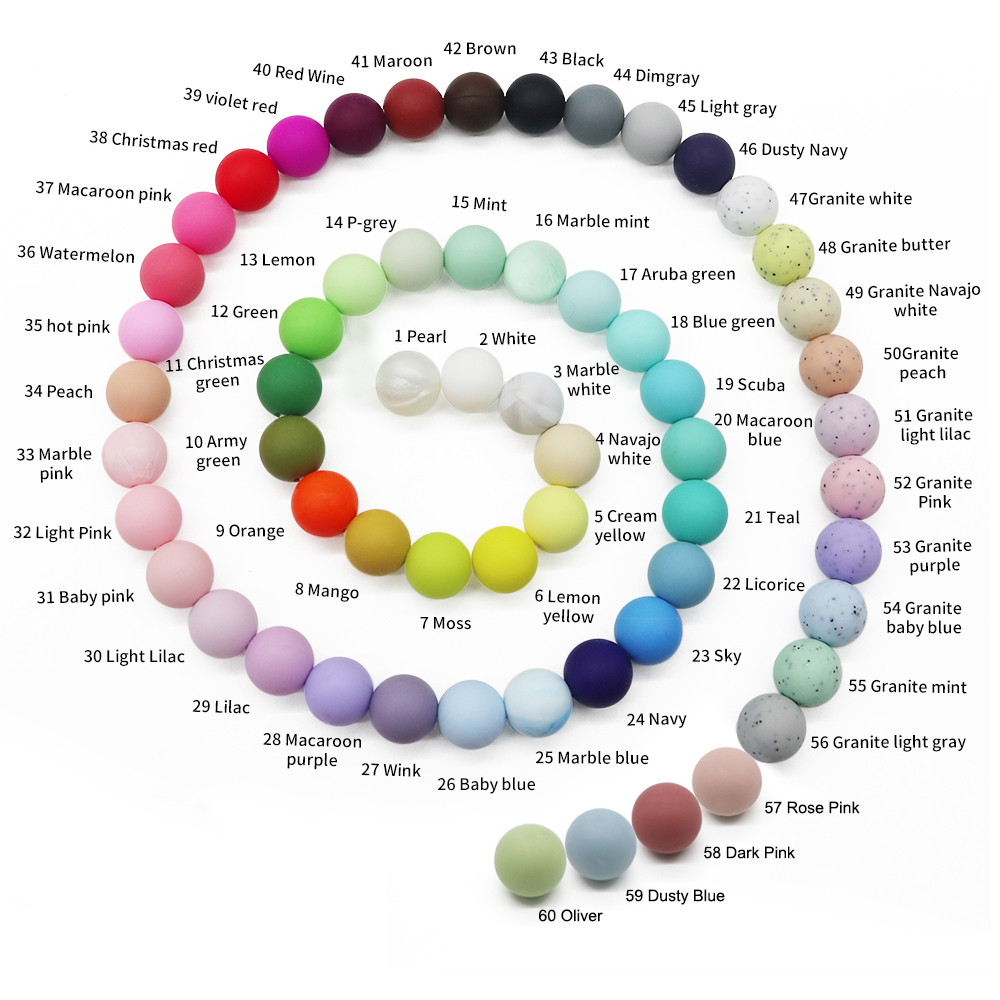 Don't you find what you are looking for?
Melikey attaches great importance to customers' needs and requirements, and provides services of personalized silicone beads. 
  Melikey's R&D team and technical team are very professional, have profound experience and technical accumulation in the development and customization of silicone beads, and can provide professional technical support and consulting services.
Melikey: A Leading Baby Teething Round Beads Manufacturer In China
As a leading Silicone Beads Manufacturer, we can guarantee the production of high quality Silicone Beads. The silicone materials we use are all high-quality materials that have undergone strict testing and screening, and we have advanced production equipment and professional production technology.
We can provide silicone beads in various colors and sizes, and customers can choose according to their needs and requirements.
We can provide customized services for customers, and make silicone beads that meet the requirements of customers, including color, size, hardness and other requirements.
In a word, we are committed to providing customers with high-quality, low-cost silicone beads products and professional services.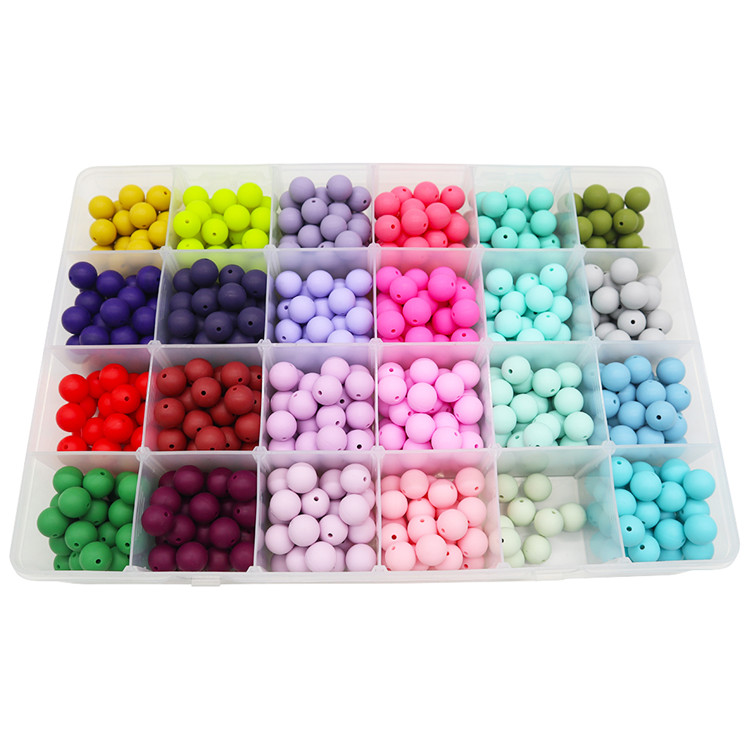 Melikey Wholesale Custom Silicone Beads Process
1. Consultation and communication
Customers can contact us by telephone, email, etc. to learn about products and services, and to put forward needs and requirements. We will listen to customers' opinions and suggestions carefully, and give professional answers and suggestions.
2. Sample confirmation
Customers can ask us to provide samples for confirmation, to check whether the quality, color, size, weight, etc. of the product meet the requirements.
3. Design and customization
According to customer requirements and sample confirmation results, we design and customize products. Customers can put forward their own designs and requirements, and we will customize products according to customer needs.
4. Production and inspection
During the production process, we will strictly control the product quality, production cycle and output to ensure that the product quality and delivery date meet customer requirements. After the production is completed, we will also conduct product inspection and quality certification.
5. Packaging and delivery
After the production is completed and the quality certification is qualified, we will package and mark the product, and select the appropriate express and logistics company for delivery according to the customer's requirements.
6. After-sales service
We will track and give feedback after the customer receives the goods to ensure customer satisfaction with the product, and provide after-sales service to solve customer problems and confusion.
Certificates For Silicone Beads
Silicone Beads Certificates: ISO9001,CE,EN71,FDA,BPA FREE ......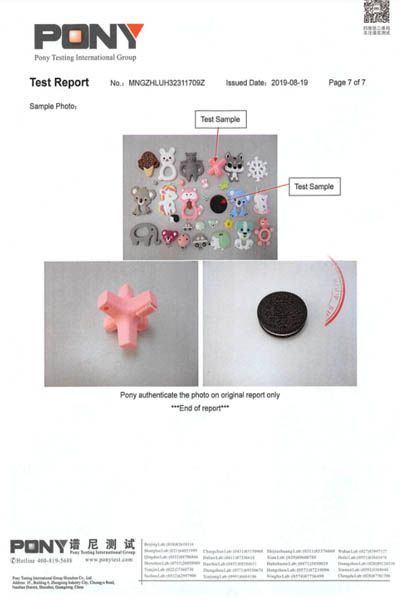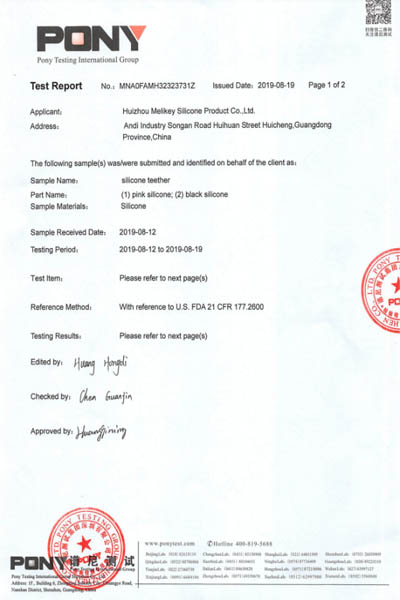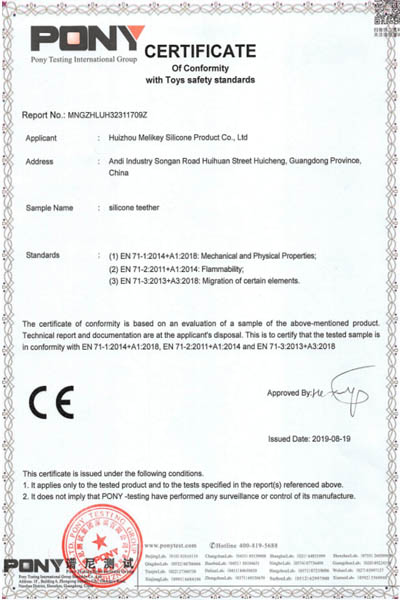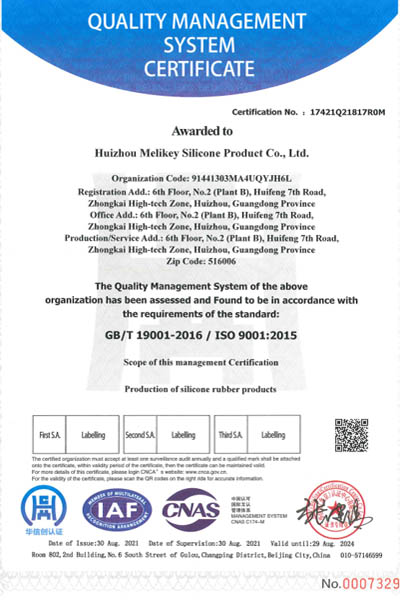 FAQ For Custom & Wholesale Silicone Beads
1. Silicone is a non-toxic, odorless and BPA-free material. Long-term contact with silicone materials will not cause harm to the human body.
2. Silicone material has good temperature resistance and corrosion resistance. Silicone products can remain stable in extreme temperatures, chemicals, and food contact without releasing harmful substances.
3. Silicone products are usually soft, flexible, easy to clean, and non-deformable, and are very suitable for baby products, such as pacifiers, tableware, and bathing utensils.
4. According to relevant research, the production process and material quality of silicone products must meet relevant standards to ensure product safety.
In summary. Silicone is a safe, environmentally friendly and durable material, suitable for making baby products. At the same time, choosing high-quality, standard-compliant silicone products can also ensure the health and safety of babies.
Regarding the specific classification of teether beads for babies, they can be classified mainly according to material, size, color, shape, etc.:
1. Classification by material: Teething beads for babies can generally be divided into two materials: natural rubber and silica gel. Natural rubber teether beads are natural and environmentally friendly, but the taste is too big, so they are not suitable for all babies: Silicone teether beads are relatively softer in taste, but because they are made of synthetic materials, some parents may feel worried.
2. Classification by size: There are also differences in the size of silicone beads, usually divided into small beads with a diameter of less than 3cm and large beads with a diameter of more than 3cm. Small beads are easy for babies to grasp and chew, and are suitable for babies around 6 months old; large beads are mainly used for babies with more fully developed gums, which can reach 12 months or above.
3. Classified by color, shape: Teether beads for babies usually have different colors and shapes, which can better attract babies' attention and stimulate their visual and tactile abilities.
It should be noted that when choosing teether beads for babies, factors such as the child's age, taste preference, and product quality and safety should be considered to ensure product quality. At the same time, you should pay attention to cleaning and disinfection before use to avoid the spread of bacteria and viruses.
Silicone beads are a material with extremely high non-slip properties. Its surface is smooth and elastic, and can naturally form slight depressions under the pressure of fingers. This indentation can increase the contact area between the fingertip and the surface of the silicone ball, thereby improving friction and making the silicone ball easier to hold and control.
Silicone beads have high plasticity and can be made into various sizes and colors. Customers can choose suitable silicone beads according to their needs and application requirements. At the same time, we can negotiate with the manufacturer to customize special specifications of silicone beads.
High-quality silicone beads will not release any harmful substances, and its ingredients meet food-grade, medical-grade or industrial-grade standards. Customers can ask the manufacturer for a corresponding certificate or test report to confirm its quality and safety.
Silicone beads can be personalized and printed. Customers can print their own trademarks, brands and other information on the surface of silicone beads. At the same time, manufacturers can customize special shapes, hardness, etc. according to customer requirements.
Silicone beads are used in a wide range of fields, such as medical, stationery, industrial and other fields. In the medical field, silicone beads are often used in surgical instruments, syringes, catheters, etc., and their flexibility and anti-slip performance are extremely advantageous. In the field of stationery, silicone beads are often used to make refills, stylus pens, erasers, etc. In the industrial field, silicone beads are often used in valve seals, rubber gaskets, etc.
The hardness and elasticity of the silicone beads are very good, and its hardness can be customized according to customer needs, and the silicone beads has very good elasticity, which is not easy to deform or wear during use, and has a long service life.
Silicone beads can be customized according to customer needs. Different silicone beads can withstand different pressures. Generally speaking, silicone beads can withstand greater pressure. Appropriate pressure can improve the feel of use, but excessive pressure will damage the silicone beads.
The color of silicone beads can be customized according to customer needs, and silicone beads of various colors can be produced. At the same time, the surface of the silicone ball can also be printed with the pattern or text required by the customer, and can be designed and produced according to the customer's requirements.